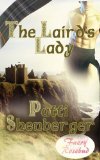 The Laird's Lady

Patti Shenberger
The Wild Rose Press, 2008
Paranormal

Much to her surprise, Devin Noone inherits a Scottish Castle and with it the title of Lady. Devin conjures up images of knights on white chargers, fair-haired damsels in distress and, fire-breathing dragons. She's never imagined what she'd get in addition to the Castle-a seaweed covered canine and a two hundred year old specter, Lord Kyle MacLay. Devin always believed that her cousin's tales of Castle Loch Haven's haunted past had been just that-tales. Yet, here the Laird was in the flesh, so to speak. At Kyle's request, Devin agrees to help him solve the mystery that's kept him trapped, unable to pass on to the next life. More...
"...fascinating..." -- Lilac, Long and Short Reviews …full review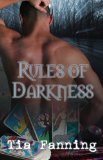 Rules Of Darkness

Tia Fanning
CreateSpace, 2007
Paranormal, R Hot

They tell me that I am special, that my ability to heal is a gift that should be treasured and appreciated. But nothing in this life is free, not even gifts. There is always a price to be paid somewhere, somehow. My healing gift came with twelve Rules of Darkness, rules that I must follow at all times, until the day I die....It's enough to drive a person mad....I'm tired of the rules. I won't do it any more, and if that means I suffer the consequences, then so be it. Warning: Explicit Content. More...
"...absolutely adored this story..." -- Diana Coyle, Night Owl Romance …full review
The Sequel is Now Out!