Today's Best-Rated Romance Novels
Newest 5 star books are researched and posted here twice weekly.
Newest Top Romance Novels Added:
---
roxanne st. claire
New York Times and USA Today
Bestselling Author
Roxanne St. Claire recently stopped by to tell us about her brand new trilogy, The Billionaires of Barefoot Bay!
Read our interview with Roxanne, and learn more about her sizzling new book, Secrets on the Sand. . .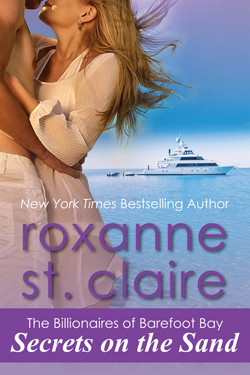 ---
*
New!
Quick Links to Best Popular Romance Novels:
---
---
Are you tired of searching for the best romance novels to read? Well, look no further! We do the work for you.
How, you ask?
It's a two step process. Each week, we at BRNT scour the web, searching for the best romance novels. We search independent review sites for their latest 5 star reviews. We consider fiction from large publishers, and also gems from small presses. Then we check the romantic novels' average star ranking in Amazon. If a book earns 5 stars from both sources, we post it here. The best romance books are posted here weekly! * **
To get started finding your next favorite romance novel, visit the categories listed under the left sidebar.
Also, check out Archives (books earlier years), Reader Favorites, and our Sitemap for more wonderful reads.
Enjoy our site. We hope you find your next favorite, top romance novels here at BRNT!
We have your favorite romance authors here!
A few of the authors and books on this site include:
Fate's Edge, Ilona Andrews
Within the Flames, by Marjorie M Liu
The Sweetest Thing, by Jill Shalvis
Only Mine, by Susan Mallery
Snapped, by Laura Griffin
His, Unexpectedly, by Susan Fox
My One and Only, by Kristan Higgins
What I Did for a Duke, by Julie Anne Long
When Beauty Tamed the Beast, by Eloisa James
Shiver of Fear, Roxanne St. Claire
Sinful in Satin, by Madeline Hunter
Born of Shadows, by Sherrilyn Kenyon
Smooth Talking Stranger, by Lisa Kleypas
Entice Me at Twilight, by Shayla Black
Magic Slays, by Ilona Andrews

and Many, Many more favorites!
* Note--All books have an average of 5 stars from Amazon when we post them here. This average could change as customers post more reviews.
** Also, while all love stories posted have earned a 5 star review from a respected reviewer, some weeks we are unable to find books which also average 5 stars on Amazon. In this case, we will post novels which have earned 4 1/2 stars on Amazon, with a minimum of 20 total reviews. We have discovered, after running this website for several years, that it is very difficult for top romance novels today to average five stars on Amazon. The 4 1/2 star compromise helps to factor out the occasional dissenting reviewer, whose opinion radically diverges from the majority, and yet ends up reducing the stories' overall Amazon ranking.