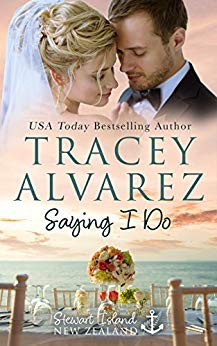 A jilted small-town doctor. An allergic-to-white bridal boutique owner. Can these two gun-shy cynics ever say 'I Do'?
Dr. Joe Whelan lost his taste for love when he was left at the altar–thanks to a woman who should've kept her focus on his fiancée's bridal gown and out of his business. Moving to the remote Stewart Island wasn't far enough to get away from those humiliating memories. Luckily Joe's got a plan to both get even with the sharp-tongued firecracker who ruined his life, and to ensure his sister doesn't marry the biggest mistake of hers.
MacKenna Jones loves a good wedding so long as she's not the one walking down the aisle. Now she's temporarily back on Stewart Island and face-to-face with the good doctor who boils her blood one moment and weakens her knees the next. A seven day road trip with him to sabotage his sister's wedding in the Marriage Capital of the World wasn't her idea, nor was falling for his sexy bedside manner–so why are wedding bells ringing in her ears?

Some writing advice from the author:
Learn the craft first, help other writers along the way, keep reading good books, don't compare yourself to anyone else, refuse to stop writing even if you never earn enough for an espresso, remember the sage advice that this journey is a marathon, not a race.


Tracey Alvarez