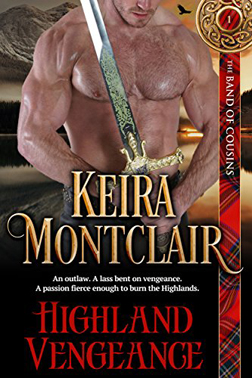 An outlaw. A lass bent on vengeance. Together they are unstoppable.
Maggie Ramsay has never forgotten Randall Baines, the English lord who tormented her beloved sister when they were children. After her sister is injured in a senseless accident, she decides to make Baines pay for what he did…only she gets more than she bargained for. 
Will MacLerie is a notorious outlaw known as the Wild Falconer, hunted for a past he cannot acknowledge for fear of death. His life is devoted to honing his skills as a warrior and anonymously helping those in need, but when he meets Maggie Ramsay, he begins to yearn for something more.
Author Keira Montclair says that this first book in the "Band of Cousins" series is Maggie's story. In a quote from her blog,

She's found the most magnificent hero, and I think you'll love him. 

Keira Montclair
Highland Vengeance rates 5 stars, with 100 reviews on Amazon. 🙂