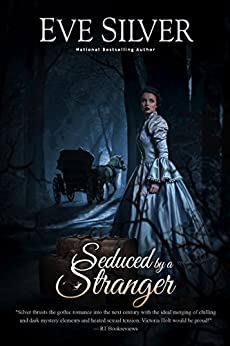 When Catherine Weston journeys to Cairncroft Abbey, she meets Gabriel St. Aubyn and must decide if he is a monster or a man she dares to love.
Destitute and desperate, Catherine Weston accepts the summons from her childhood friend Madeline St. Aubyn to attend her at Cairncroft Abbey, a place of secrets, lies, and murder. Madeline's health is in a poor state and she is terrified of her cousin, Gabriel. But Gabriel has quite a different effect on Catherine, stirring longings and desires she believed long buried.

Gabriel St. Aubyn is haunted by the horrors of both his past and his present, horrors he conceals behind a remote, unapproachable facade. He is drawn to Catherine but is determined to protect her from the tragedies that yet have claws sunk deep in his soul. 

Then a young woman is found dead, and Madeline's ravings point to a link between this horrific crime and Gabriel—and Catherine must decide if he is a man worthy of her love or a sinister stranger determined to make her his next victim.

A review on Seduced by a Stranger:
"Eve Silver's talent for formulating a gripping story is in a class all its own…Her tales are going to have you at the edge of your seat in wonder, and her heroes will undoubtedly cause your heart to pound in more ways than one"


Barbara, 123 Books