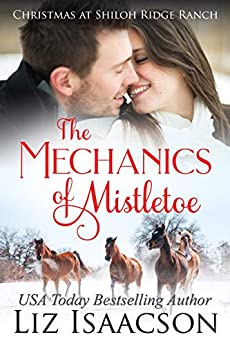 He can be a teddy or a grizzly. She's a genius with a wrench. Can the pretty mechanic tame this cowboy's wild side, or will they both be left broken-hearted this Christmas?
Bear Glover always thought he'd be just fine working his generational family ranch and going back to the homestead alone. But he's had a crush on Samantha Benton for a while now, and he's decided it's time to do something about it. But his first date with Sammy is a spectacular disaster. But when three tornadoes hit Three Rivers, his first thought is of the beautiful woman he'd really like a second chance with.


Sammy feels like she has to be the strong one in her family. Ever since her sister and her husband died, Sammy's taken care of Lincoln, her sister's son, and her aging parents. And three tornadoes? They've only added the weight of the world to Sammy's shoulders. School's been canceled, and she has nowhere for her eight-year-old to go.


Bear knows exactly what to do with an eight-year-old boy on a ranch, and he offers to take Lincoln up to Shiloh Ridge Ranch with him every day. Bear has an answer for everything—which only makes Sammy feel weak. And she hates nothing more than feeling weak. Can Sammy realize that the Lord may have given her Bear so she doesn't have to be strong all the time? Or will she sabotage their relationship this holiday season?

A five star review of the book:
"They're both so strong and more than a bit stubborn. She especially thinks that accepting help shows weakness; she can't quite bring herself to understand that supporting one another is not a weakness but is a strength that buoys both… The hero, Bear, is an especially complex character, having to be so strong for his family for so long and being so tough on the outside, but he has a tender heart and a way with the heroine's adopted son that was so heartwarming… Such strong characters who deserve love and the person that matches their good hearts. You just wanted them to each get it together on a personal level and then just get together as a couple. A wonderful romantic read, whether you read it at Christmas or any other time."


Jamie Jack on Goodreads