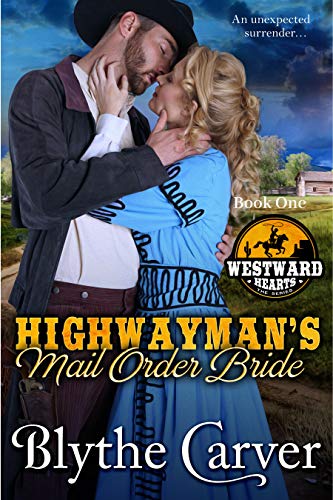 The last thing a mail order bride needs is a highwayman's intervention in the form of a stagecoach robbery.
When Melissa married John Carter because her family couldn't afford to feed her, she had no idea of the cruelty of the man. John Carter beats her mercilessly and makes her life a living hell. After seeing an ad in the paper for paid passage westward, she answers the ad in the hopes to use the ticket to escape John Carter, not just for herself, but for the baby she's carrying. Time is of the essence if she is to marry in time to convince her new husband that the baby she'll give birth to is his.

When robbers learn her husband is a wealthy rancher, she's taken hostage, costing her precious time in a plan that hinges on timeliness. She hates the leader of the highwaymen with a passion and is beyond angry that the time is ticking while he negotiates her ransom.
Jed Cunningham's a highwayman, certainly, but one with honor. And a heart, it seems. He can't stand the idea of sending the stunning feisty Melissa Carter to marry a rich rancher. She's precisely the kind of woman who needs to be loved.
But she doesn't seem to see that.

A review of the novel:
"This book was intriguing from the get-go, with seamless writing and detailed descriptions that kept me turning page after page. I really enjoyed this! It definitely won't be my last from this author."


Sydney Winward