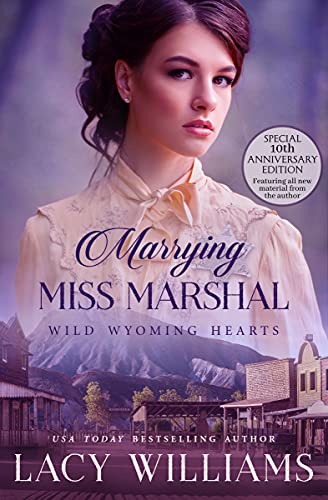 She's no lady… And he's on a quest for revenge.
Danna Carpenter is town marshal. And a darn good one. Even if she has to handle saloon brawls and rustlers alone. Who needs deputies anyway? All right, she'd welcome the help if any of the men in town would offer it. When a bank robbery goes bad, she has no choice but to accept the help of a city slicker…

Chas O'Grady came West in search of cattle rustlers and found himself on the trail of a killer–one who took everything from him. Crossing paths with the pretty marshal was happenstance, but he can't leave her deputy-less when she's facing such grave danger.
Everything changes when Chas and Danna are stranded together in a snowstorm. The town council forces a marriage. And attraction turns to something more… Will Chas give up his quest for revenge? Or will he lose the woman he loves forever?

The author on the struggles of women in her novel:
"Marrying Miss Marshall is about a woman town marshal in the Wild West. It is loosely based on to real life stories of women in law enforcement in the 1920s. One was a town marshal and one was a County Sheriff. As you can imagine these women faced a lot of obstacles in their careers. They had a really tough time doing the things that they needed to do because they were women, and that was
something that I wanted readers to be able to experience in my story. My heroine faces a lot of challenges, including prejudice from the people that she's trying to protect, and really the only person who will help her and come alongside her is the hero who is a tenderfoot from the big city."


Lacy Williams