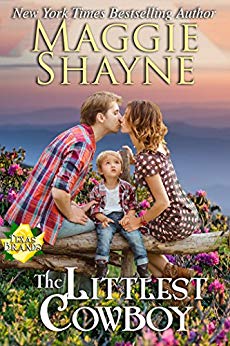 What's a sheriff to do when he finds a baby on his doorstep?
Sheriff Garrett Brand has raised his entire brood of siblings single-handedly, and he's done his best to teach them some values, to mold them into honorable, responsible, and trustworthy human beings. So when a baby lands on the doorstep of the Texas Brand, his first question is which younger brother is in for a butt-kicking? But the little fellow isn't named after Ben, or Wes, or Adam, or Elliot. The little feller is named after him–Garrett Ethan Brand–according to the note his mama left behind.
He's still racking his brain to figure it all out, when a woman shows up at the ranch in the dead of night, spitting, fighting mad, and accusing Garrett of murdering her sister and stealing the baby! Chelsea is confused, heartbroken, and too mad to think straight, and the same trouble that found her poor sister is right on her tail. But of all the places she and the baby could've wound up, Garrett thinks this ranch is the best one.
Advice for aspiring writers from Maggie Shayne:
Write. Just write, and write for the sheer love of it. Write with the same excitement you feel when you're reading a real page turner. Write a story you cannot put down. Write with passion. Don't write for anyone else but yourself. Love what you write. And just keep going and going and going.


Maggie Shayne