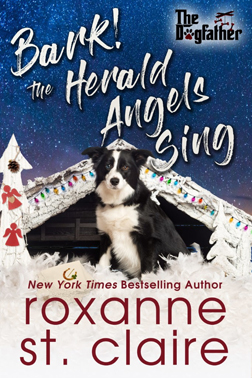 It will take the luck of the Irish, a love story from long ago, and a whole lot of help from the angels to make this holiday merry and bright.
With Christmas and a family wedding fast approaching, there's happy chaos in the air at Waterford Farm. However, not everyone in the Kilcannon clan is caught up in the magic of the moment. Matriarch, octogenarian, and beloved blogger Gramma Finnie hears the clock of her long life ticking far too fast, while her great-granddaughter, teenager Pru, feels squeezed out of planning her mother's nuptials.
But when this unlikely duo is tasked with the project of producing the "Somethings" for the wedding – and only have Christmas Eve to get the job done – Gramma Finnie and Pru have a purpose and a plan. They set off to find the perfect old, new, borrowed, and blue treasures, but it doesn't take long for things to spin out of control faster than Gramma's Toyota in a snowstorm. Detoured by a stray border collie, thwarted by nature and an elf parade, and trapped by a rifle-toting mountain man, it will take more than the power of the Kilcannon clan to save these two from a Christmas catastrophe.
Roxanne St. Claire shares more about the Dogfather series on her website, including news about the first book in the series:

Haven't read the Dogfather series yet? Well, the first book in the Dogfather Series is FREE FOR A LIMITED TIME! Check out any retailer and download Sit…Stay…Beg for free!

Roxanne St. Claire