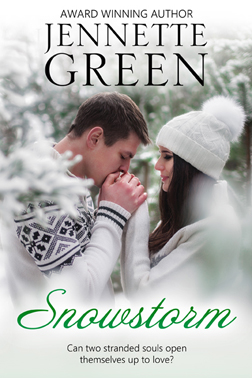 Cozy up to a warm winter romance today!
She's traded everything for her job. He's turned his back on the world. Can two stranded souls open themselves up to love?
Tabitha has her sights set on the top of the corporate ladder. She has all the plans in the world to make more time for her family after locking down her Wall Street promotion. But when her stubborn father needs convincing about heart surgery, she jumps in her car and speeds toward home…straight into a snowbank…
Arnie doesn't ask for much. All the widower war vet wants is his farmland and his privacy. But when a fast-talking city slicker crashes her car near his house during a blizzard, he's forced to take her in. After Tabitha pries into a past he'd rather forget, he wonders if he'd be better off in the storm…
As the snow piles higher and Christmas approaches, Tabitha and Arnie begin to warm up to each other. Is Arnie willing to open himself up to a better future? When the snow melts, will Tabitha make a sacrifice for what her heart truly desires?
"If you like heartwarming stories, resilient characters, and a deeper look at what really matters, then you'll love this Christmas inspirational romance."
Jennette Green shares what this internationally bestselling book has taught her:
The lessons Tabitha learned about working too hard, and choosing instead to focus on the things that matter the most in life are lessons I continue to learn. I hope one day I will get it right, too.


Jennette Green