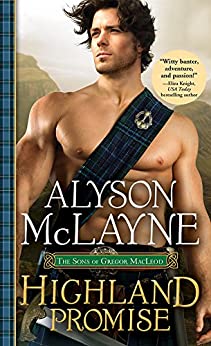 When forced to choose between duty and honor, this Highland Laird will find a way to have both.
Darach MacKenzie vowed never again to let a woman near his heart after his betrothed betrayed him. It sparked an intense feud between his clan and the Frasers. With all-out war on the wind, Darach can't be distracted—not even by a sweet and charming lass who desperately needs his help.
When Darach rescued Caitlin MacInnes from the clutches of vile Laird Fraser, she vowed to never let men or misery rule her life again. With Darach and the MacKenzie clan, Caitlin finally feels safe. But when Laird Fraser shows up to claim what's rightfully his, or go to war, Darach will have to use all his brawn and brains to protect Caitlin—even if it means losing his heart.
The author's inspiration for this novel:
"I first started writing HIGHLAND PROMISE about 10 years ago after reading ALL of Julie Garwood's Highlander romances. I LOVED them—the resolute Highland laird and the kind, somewhat quirky, heroine who worms her way into his heart. IMHO, they are the funniest, sweetest, and best warm-fuzzy- inducing books ever written. I think HIGHLAND PROMISE captures that same tone and spirit"


Alyson McKlayne