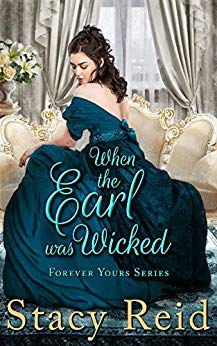 Lady Verity Ayles will do whatever it takes to protect herself from a vile cur, no matter how scandalous or perilous it may be.
And that means aligning with James Radcliffe, the Earl of Maschelly–a scoundrel who spends his days in sin and self-indulgence, and his nights in reckless pursuits. Clearly, a man any young lady of good sense and reputation should stay away from.

James had clawed his way from poverty to the fringes of the ton using his wits and fists. His wicked reputation encourages ladies to approach him for clandestine affairs, never for anything as outrageous as Lady Verity's request–to teach her how to fight. And in exchange, she will instruct him on all the refined manners a hulking, ruthless, fighting brute as himself needed to net a lady of quality.
About Stacy Reid:

I am an unapologetic romance lover. I read it. I write it. Enough said. Well..I also have a warrior way "Never give up on my dreams."


Stacy Read