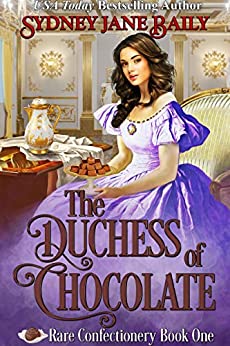 Step into Rare Confectionery on New Bond Street, where three talented sisters create treats as delectable to the tongue as they are appealing to the eye. One taste is all it takes to be captivated…
The Duke of Pelham desires an original confection to win the Season's loveliest lady. Naturally, he turns to London's premiere chocolatier for assistance. Amity has never had a customer quite like the duke. In status, he's far above ordinary men, yet he is one of the friendliest, funniest, and most engaging males she has ever met.

As the duke enters the scrumptious world of confectionery, he discovers the chocolate-maker is as delightful—and tempting—as her creations. While Amity designs the perfect proposal chocolate, her heart begins to wish the duke could be her very own mouthwatering reward. Join Amity and her duke on a chocolate-filled romance in the heart of Mayfair, where nobility often acts in a less-than noble fashion. Will the upper-echelon of society sour their happiness and keep them from the sweetest of endings?
The author on her writing style:
"I tend to have a slow pace, with in-depth simmering characterizations, which take time to develop, though my heroes and heroines often recognize an attraction almost instantly. So, I am a character-driven writer, rather than thinking of an entire story first."


Sydney Jane Baily