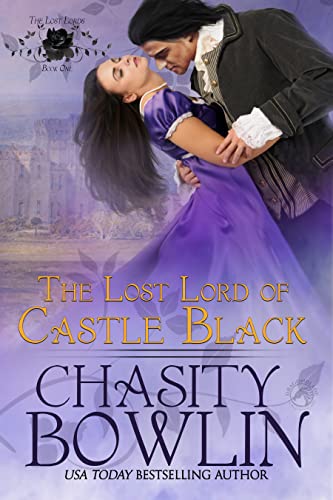 A long lost son and heir to Castle Black, a grieving mother, an orphaned ward, and a mystery.
Graham, Lord Blakemore, was believed to be lost at sea as a boy. While his mother, Lady Agatha, has never given up hope of finding her son again, others—eager for the title and the wealth that accompanies it—have been conspiring to have him declared dead against Lady Agatha's wishes. Her only ally in the house is her late husband's ward, Miss Beatrice Marlowe.
But when a dark-haired stranger arrives on their doorstep claiming to be the lost heir to Castle Black, the plots and schemes of those who would have the castle for themselves take a dark and even more sinister turn.
An orphan when she came into the care of the late Lord Blakemore, Castle Black is the only home Beatrice has ever known. Its occupants are her family. This stranger, who claims to have lost his memory of his life there, threatens the order of all that she knows and holds dear. And yet, she is both drawn to him and strangely compelled to believe his claim. Beatrice finds herself torn between her desire for him and her belief that, if he is the lost lord of Castle Black, he is far above her reach.

Graham is no ordinary gentleman, bound by the rules of a society he has spent his life far removed from. He's willing to face not just the danger that lurks within the walls of Castle Black, but anyone who stands between him and what he wants. He has returned to claim his destiny and, for him, Beatrice is part of that. While all else has been forgotten, he knows her to the depths of his soul. More than the castle itself, more than the strangely familiar and rugged land it sits upon, she is his home and he means to claim her.
A five star review on Goodreads
"This was such a wonderful and entertaining story that captured my interest throughout. The chemistry between Graham and Beatrice was felt from their very first meeting and I enjoyed their conversations and found myself smiling inwardly at their banter. The mystery of the villain had me immersed in the story and anxiously awaiting the outcome. It didn't disappoint. This is definitely a keeper for me and one that I highly recommend."


Joan Osborne – Good reads