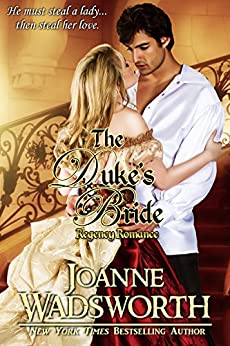 He must steal a lady…then steal her love.
Desiring a man and never being noticed as more than his best friend's little sister has Lady Ellie Trentbury finally consigning herself to the truth. She must move on, and preferably with a man who lives far away from her home in London where she need never be reminded of the duke who stole her heart. An elopement with an honorable American shipping merchant sounds perfect.

The Duke of Ashten has no choice but to be bound into his best friend's carriage when he discovers little Ellie is inside and intent on eloping with a man to Gretna Green who she barely knows. He can't allow her to make such a terrible mistake, yet convincing her might mean giving into his desire for the golden-eyed enchantress who has followed him around since he was a lad. Her pouty lips and bountiful charms can no longer be ignored, only convincing her of the truth of his intentions will mean jeopardizing both his sanity and a lifelong friendship as well.

A 5 star review from Goodreads:
"An absolute delight to read! Fast paced with danger and romance. A must read! Joanne Wadsworth nailed book 1 in her new and exciting Recency Romance."


April – Goodreads